Keeping your Kids busy during a Quarantine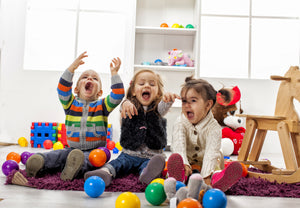 Being stuck home- especially with kids; is a very challenging task. It's only been a few days and already we're going a bit cuckoo. Here is a list of things that will help keep you and your kids busy and happy. Keep in mind; everything is better with Music!
Bake/Cook. Kids love helping out in the kitchen. Let your child help you cook whatever meal you're up to (obviously staying away from the dangerous tasks). Peeling garlic keeps them real busy :) . If you're feeling up to it, you can even bake something with the kids. My daughter loves helping me pour all the ingredients into the kitchen aid. If you want to get even more creative, you can let your kids make sugar cookies and cut the cookies into different shapes. They'll love it and it will keep them busy for a while.
Do a puzzle. I just introduced puzzles to my 3 year old and she loves them! Puzzles are stimulating, and help children develop better fine motor skills (fine motor skills require slight hand/finger movements). Make sure the puzzle isn't too hard or you'll be stuck doing it. There are puzzles for all different ages starting from wooden block puzzles from Melissa & Doug, to 500 piece puzzles for your older kids.
Books are a great way for you and your kids to keep busy. For younger kids that can't yet read on their own it can be challenging. I recently discovered an inexpensive gadget that is a real game changer. We purchased my daughter an electronic reader/story book collection from Amazon. The Reader comes with a tablet and a number of story books. She spends long periods of time listening to each story which is read aloud by the tablet. It is really easy to configure- she doesn't need any help at all with it.
Do-a-Dot markers. Most Preschool kids use Do-a-Dot/Bang a dots often in school. Bang-a-dot markers are great because they are very simple to use and very kid friendly- leaving little to no mess( Make sure they're washable). Investing in your own set of markers will be money well spent; Your child will love using them!
Watch a Movie. I am not a huge fan of sticking kids in front of a screen, but desperate times call for desperate measures. Sometimes, you need to do it. I recommend putting on educational shows/movies with some inspiring content. Barney is always willing to help when I need a few minutes of peace and quiet.
You Might

Also Like